Success – some people define it in terms of numbers. Some of us define it by our relationships. And some of us define it by the difference we make in other people's lives. One conference hoped to help with all three areas – being an entrepreneur, practicing self-love and learning balance, and most importantly, thinking beyond ourselves to build a better, more inclusive workplace where everyone has a seat in the office.
Over 200 industry executives, entrepreneurs, trailblazers, investors, former pro-athletes, educators, government officials and community leaders gathered at a women and diversity conference, FWD Collective, in the River West neighborhood in Chicago on Friday, September 15, 2017.
Even in cities, and sometimes especially in cities, diversity is something that isn't happenstance. It's curated. It's thought about. It's enforced and then needs to be reinforced in our communities and especially our workplaces.
Michael Donnelly founded FWD Collective to draw attention to diversity in the workplace and in entrepreneurship. Their discussions have expanded from a focus solely on venture capital to include business development, sharing your story, building teams, and beyond.
"The FWD Collective Summit is an expansion of the two successful VentureFWD events in Chicago2016 and San Francisco 2017, with a larger mission focusing on professional inclusion across multiple verticals, "Donnelly, Founder of FWD Collective said. "Our events connect emerging entrepreneurs with established business professionals by facilitating discussions on business development, venture capital, building teams, and beyond."
Addressing Barriers in the Workplace: Building a Diverse Community
FWD Collective was seriously an experience. It takes down the barriers but also addresses them. By being part of this women and diversity conference in Chicago we learned a few amazing statistics about how diverse teams perform in the workplace:
Ethnically, diverse teams outperform non-diverse ones by 35%.
Teams where men and women are equal earn 41% more revenue.
Companies reporting highest levels of racial diversity in their organizations bring in nearly 15 times more sales revenue than those with lowest levels of racial diversity.
But we also learned that even though there is reported success, there is also fear and exclusion in the workplace. FWD Collective shared:
There are fewer Fortune 500 CEOs who are women (4.1%) than who are named David (4.5%) or John (5.3%)
83% of venture-backed founders have a racial composition that is entirely Caucasion.
Only 5 of all Fortune 500 companies have African American CEOs.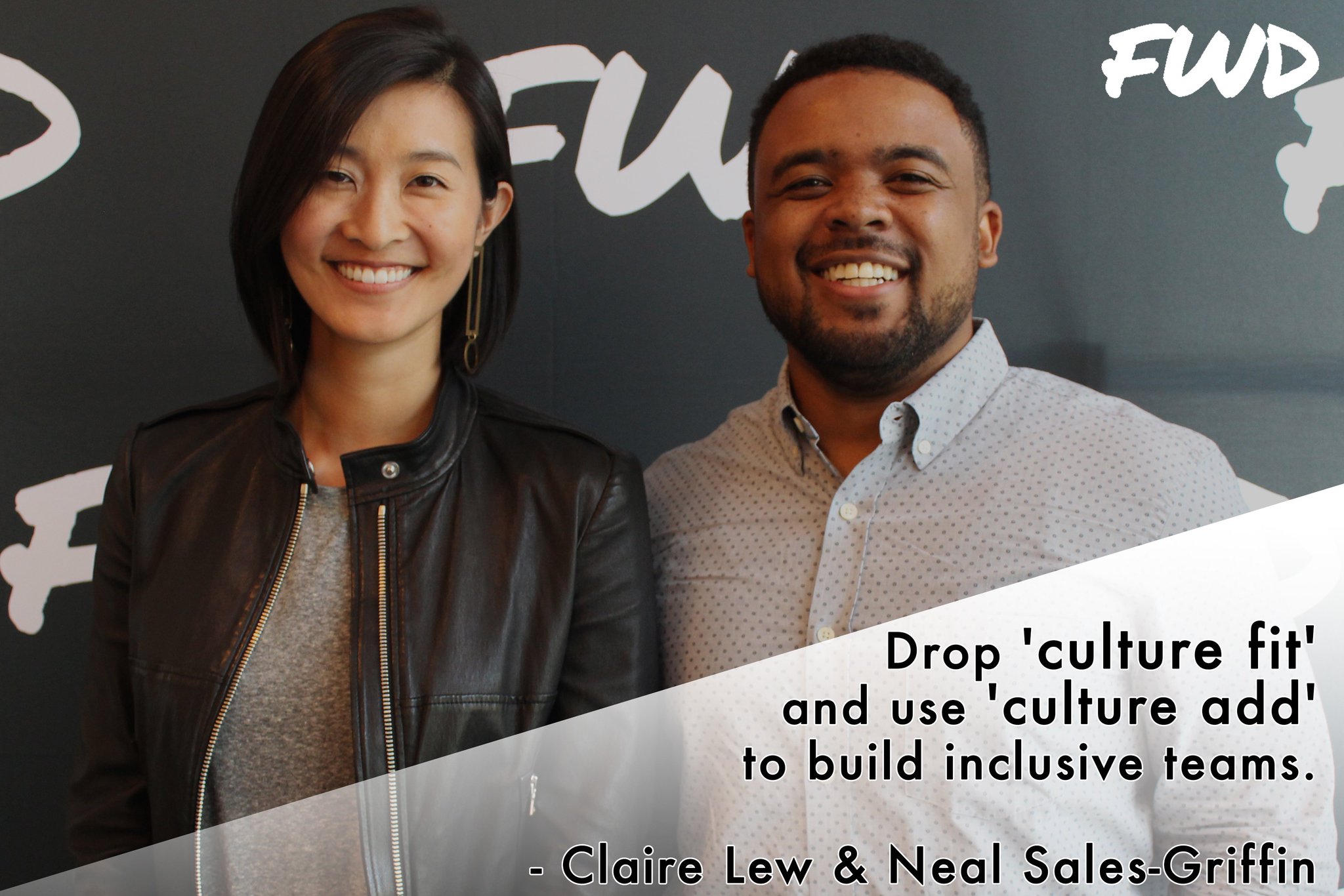 Entrepreneurs and Tech Influencers at The Women and Diversity Conference:
The summit included sessions with a diverse group including:
● Kristi Ross | TastyTrade & Moxie Award Tech Woman of the Year
● Ryan Mundy | Techlete Ventures & Former Chicago Bear
● Iggy Rodriguez | Bachelorette S13 & VP at Hero
● Katy Lynch | Codeverse & Top 50 Tech Influencer
● Rodrigo Garcia | CTO & CIO of Illinois State Treasurer
● Claire Lew | Know Your Company & Crain's 20 In Their 20s
● Neal Sales-Griffin | CodeNow & Crain's 40 Under 40
● And more!
Established entrepreneurs like Katy Lynch, whose new startup plans to teach a billion kids to read, spoke on a panel and encouraged those with business ideas to know the long road ahead and to not just quit your job, but build your plans and your dreams while working. Some tips they shared included making sure you can prove that your business is self-sustaining. Another key thing to do when you are building your business is to get in front of as many people that you can and learn the industry.
In the line-up was Deena McKay, Founder of the podcast, Black Tech Unplugged moderating a panelist including Silvana Favaretto, Founder of The Tulle Project,  Keisha Howard, Founder of  Sugar Gamers. which makes gaming accessible to like-minded women and other underserved demographics, and Kesia King, Founder of Chop Chop Mobile Salon and Barber. 
This panel discussion talked about building a business out of passion and perseverance.
"It's not about blowing everyone's mind. It's about the things that connect each other," Favaretto shared, " I started a personal project. I wore a tulle skirt for 100 days. My goal is to empower women to be whatever they want to be."
King started out with her mobile hair salon by creating a pop-up model at events. She said that she could prove interested that way.
Howard said that the recession hit and that changed the game for her. She entered into a gaming competition in California. Even though she realized she wasn't good at gaming, she came back to Chicago and took out an ad on Craigslist to see if women and people of color were interested in being part of a gaming community. "We don't see ourselves represented in these spaces," Howard of Sugar Gamers shared. Based on that interest and momentum, she started building her company.
The panelist discussion also talked about the drive you need to have to be in business.
When King learned from a fellow Chamber of Commerce member that she wasn't the first to market a mobile hair salon in Chicago, she shared that "I lost it. I was devastated." But she didn't stop there. "Competition is inevitable. Keep going and know that business is tough. You're going to have highs and lows."
Practical Sessions on Marketing and SEO:
The conference was an all-day event with panel discussions covering business plans, empowerment, and getting started with a business idea. At the same time, there were workshop classes about marketing, branding, finding your value and sanity and also offering practical foundations on search engine optimization (SEO).
Seach Engine Optimization and Link Building:
"I love working in this industry! It is fun and ever changing so there is always something new to learn. I have had the opportunity to grow from an account manager to my current position of Vice President. I truly believe that you can succeed as a woman in any industry as long as you put everything you have into it. Do something you love and you will be successful at it." Sarah McMillin, Vice President at Loud Interactive, who gave a presentation on SEO.
McMillin shared foundations of SEO including the 5 key variables:
Popularity
Authority
Relevance
Social Media
User Signals
One of her skillsets is link building. McMillin shared that you have to ask to be referenced in articles by asking "Can you link to me or can I write about you?" Pro tip: the best sites to be referenced on are .gov and .edu.
To establish your brand, she suggests signing up for Help a Report Out (HARO), where reporters will ask for expertise on a topic or need a quote for the article. To go a step further, make sure you ask for a link back to your site when you provide the data/quote.
Another tool for networking with bloggers and reporters and link building is to use Buzz Stream where you can search for a topic and find bloggers.
Marketing, Personas, and Sales:
Another marketing presentation was organized by Jill Rossini, Director of Marketing and Strategy at Conundrum Marketing Solutions.
She broke marketing down into three sections:
increase leads
to drive revenue
build relationships
She emphasized starting with "why" you're building your businesses. Once you know the "why" then you can build a brand around that. Next, she suggested gathering 360-degree feedback of your brand which will help you understand your audience and build personas. Asking for feedback is key to improving your product or service. Lastly, she addressed building a list of people you want to talk to such as influencers, partners, or gatekeepers and to keep growing your contacts through account-based networking. 
Mind, Body, and Soul: How To Take Care of Yourself and Your Business:
What was great about this event is that it addresses the need for diversity. But we didn't just talk about how we could be more diverse and promote more diverse workplaces and startup funding for underrepresented minorities. We also talked about how to equip ourselves with resources to market and promote our companies, and how to take a holistic view and make sure that our minds and bodies are in alignment and not just our work.
Two workshops stood out to me. The first was with experienced Product & Product Marketing Leader, Entrepreneur, and Speaker, Colleen Wilson. She spoke about how she was not her job and the need for entrepreneurs to find balance. While she shared that she was addicted to achievement, she learned on her journey that "who you are and how you do what you do is more important than what you do."
While talking about our passion, our values, and our strengths, she really looked at all of us in the classroom and urged us to start appreciating who we are as people and to progress from there.
Transitioning in the afternoon sessions, we actually turned the lights out and meditated with serial entrepreneur, Ann Marie, CEO and Founder of Vue Capital.
Chicago Men and Women Recognized for Their Impact For Diversity in The Workplace:
This year, FWD Collective will also be honoring 10 individuals with the inaugural FWD Awards identifying those who are making a real impact for women & diversity. The awardees are: Freida Curry | WBDC, Emile Cambry | BLUE 1647, Allison Walsh | Chicago Innovation, Omar Duque | IHCC, Samara Mejia Hernandez | MATH Venture Partners, Thomas K.R. Stovall | ImBlackInTech, Holly Copeland | Horizon Pharma Manny Ozaeta | Hispanic Technology Incubator, Dima Elissa | VisMed 3D & AMWA, and Micae Brown | Minority Report N.K.A. Micae Brown Report.
Overall: A Mix of Building Your Skillset, Self-Care, and How to Promote Diversity:
I really appreciated this women and diversity conference. l appreciated the advice that McMillin from Loud Interactive shared about writing content that will be seen and help you build your brand and your audience. It was great to have a mix of skill-building workshops, along with thought-provoking ones about how to build a diverse workplace. I liked the panel discussion and learning how entrepreneurs came up with their ideas – ideas that they thought they couldn't do and ideas that were involving people of color, men, and women into activities and businesses that were not mainstream or not marketed to like the Sugar Gamers initiative. Finally, I like that the Chicago conference addressed self-help and that we are whole people who need to be more than a job – we need to think about how we treat others and ourselves.
To learn more about FWD Collective and its mission to pop-up in as many cities as possible over the next few years, to expand our conversations, open up opportunities, and create an international community dedicated to professional inclusion and diversity, contact the Founder, Michael Donnelly.