Oh, the holidays! The time of being thankful and being around people you love. It can also be really stressful especially when you're trying to come up with Christmas gift ideas for your boyfriend's parents. You could be traveling a long way and not be able to bring over a hot side dish (aka mashed potatoes, my specialty). You could be flying, which means no wine and probably not flowers.
So, we've rounded up some Christmas gift ideas for your boyfriend's parents that make it a bit easier to make a great impression.
I think the first step is to relax. It's exciting and nervous to go and celebrate an intimate family affair with your boyfriend. I've personally been a bit nervous because it's the first time I am bringing a guy home to meet my family and it's the first time I'm spending Christmas with my boyfriend's family. This thread has a lot of answers to common concerns about spending the holidays with your partner's family.
The second thing I would do is to ask him or his family about what they need or would like you to bring.
And when all else fails, a nice hostess gift is always a good gesture, especially if you are staying over. Trust me on this. It's also nice to have some movie recommendations handy.
I've worked with bakers and pastry chefs, sommeliers, and more to round up delicious treats and nice hostess gifts for the holidays that your boyfriend's parents will love.
Christmas gift ideas for your boyfriend's parents
Gifts range from $5 to $100.
Olive Oil
A little drizzle goes a long way. This is perfect if you're flying. You can order ahead of time and have it arrive to your boyfriend's family's house before the holidays. The Piattino Gift Box is a perfect gift for the hostess as it contains one 250ml tin of extra virgin olive oil (your choice of which scrumptious one to choose!) along with a tasting dish and TRE Olive's famous spice pack – add your favorite loaf of bread and you've got a tasty gift that can be used immediately.
Macarons
These macarons definitely add class (and taste) to any holiday meal if you're on the more stylish side. I just sent a box to my brother since I won't be spending Thanksgiving with him this year, and he loved them. Macaron Queen is owned by mother-daughter team Finia Jahangard and Nina Chteoui and they definitely roll out the royal treatment. They only use Italian buttercream, which is notoriously difficult to work with, but the Queen and her royal subjects have absolutely perfected the technique, temperature and texture. Want more of a melt in your mouth sensation? Sink your teeth into one of the cheesecake flavors that starts with that signature macaron crunch but ends with a chewy, creamy almost brownie-like consistency. Added bonus, these craveable cookies are Gluten and GMO free! Get them by the curated set, limited releases or À La Carte!
Cake & Pies from Daisy CAkes
If you don't know what to say, say it with cake. Daisy Cakes is such a fun brand and they make amazing cakes and pies. Caramel Apple, Pumpkin Pound Cake and Carrot Cake are a few favorites for Thanksgiving. I personally tried the Red Velvet and there was no shame when my friends went back for seconds. I love that they deliver fresh cakes to your door and you can freeze them or serve them the same day. This is a great gift to have delivered if you need to bring dessert and are flying from out of town.
Color my Cookie – An activity and a treat
If you're going to a big house and want to add a little entertainment for kids (and adults), this holiday hostess gift is for you. The Major family started Color My Cookie when they had to close their retail bakery after the pandemic hit. They took their #1 selling cookie and created paint-your-own iced cookie sets which come with edible watercolors and sprinkles. My boyfriend and I had a fun date night painting the cookies and sipping wine. It was our own at-home paint & sip night. But this would be great to get for my sister, who is hosting us for Thanksgiving and has two young boys.
Wine (support Female entrepreneurs)
I had to add this to the list because wine is classy and good, and honestly, you can never have too many bottles. Plus, they aren't perishable. If you saw this year's inauguration (wow, that was this year!) this one's for you. Love Cork Screw just launched "BE THE LIGHT" Sauv Blanc inspired by Amanda Gorman's beautiful inauguration poem. Black Female Founder, Chrishon Lampley is a négociant and wine enthusiast who is doing good by leveraging her platform to mentor young women and budding entrepreneurs.
The second wine company I want to introduce you to is Teneral Cellars. They just launched the Healthy Women, Healthy World Collection featuring a trio of wines that bring attention to reproductive, heart, and breast health issues that affect millions of women globally. With every three-pack sold, $10 will be donated to the Endometriosis Foundation of America. This is really special to me because I have a family member who has become debilities from endometriosis.
Top Chef host Padma Lakshmi, diagnosed with endometriosis herself, and co-founder of the Endometriosis Foundation of America, has paired recipes with these wines! Master Sommelier Catherine Fallis is Teneral's featured sommelier who will conduct virtual wine tastings, education, and conversations with other women in wine.
A good Smelling Candle
Scent is a beautiful thing. If you can't bake anything, you can still fill the air with your favorite holiday smells with the perfect candle. I love a pumpkin scent and this pumpkin candle from Anthropologie not only smells great but looks great, too.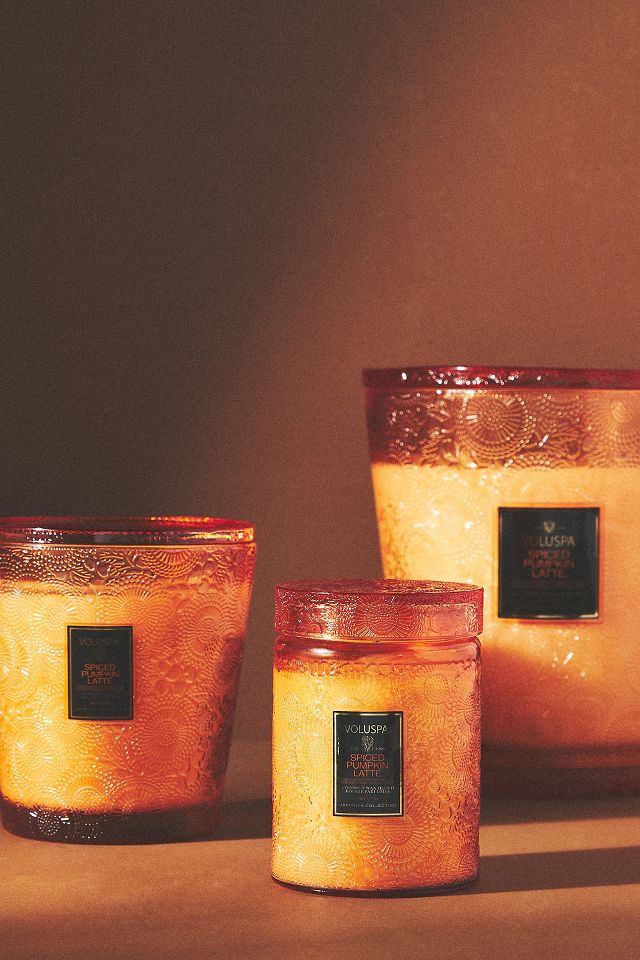 I was surprised this year with a cute little pumpkin that my sister sent me on the first day from fall. Who knew this would start my desire for fall decor. I love that this is a small candle – not bulky, so easy to travel with! And it's a great price. I've lit this candle for countless dinners and it still fills my one-bedroom apartment with this amazing pumpkin spice scent.